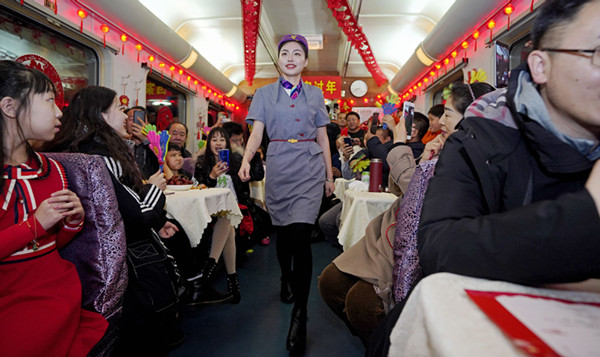 A train attendant models her clothing on a train from Qiqihar, Heilongjiang province, to Beijing on Saturday. Staff members organized a mini Spring Festival gala to entertain passengers, many of them on their way to family reunions. [Photo by Cai Yang/XINHUA]
Xu He picked up his parents at Guangzhou South Railway Station on Thursday afternoon, where hundreds of passengers were beginning their homeward trips for Spring Festival family reunions.
A native of Huaihua in Hunan province, Xu said he would spend the Spring Festival with his parents in Guangzhou, capital of Guangdong province.
"I'll take them sightseeing in the city where I have been living and working for seven years," said Xu, who works for an information technology company in the city's Huangpu district.
The annual Spring Festival travel rush usually refers to the exodus of workers from cities ahead of the festival and the flood back after it's finished.
However, increasing numbers of people are now opting to hold their family gatherings in big cities.
"By taking the high-speed train, my parents found the journey from my hometown to Guangzhou was not hard," Xu said.
Some people working in cities have found that tickets for trips from their hometowns to big cities ahead of the festival are much cheaper than the other way around.
"If I fly back home to Chongqing, I would spend at least 3,500 yuan ($519) on tickets," Zhang Lan, a Chongqing-native working in Shanghai, told Xinhua News Agency. "But it only costs 2,400 yuan for both of my parents to come here."
Zhang's parents will fly from Chongqing to Shanghai to join her during the Spring Festival.
On the first five days of the Spring Festival travel rush, Guangzhou East Railway Station saw 457,000 departures and 256,000 arrivals, its information and publicity office said.
But the trend is not seen only in train and air trips, said Dong Zhenning, vice-president of Amap, a Chinese map service provider.
"A growing number of people have begun their trips by car from the northern area to big southern cities," Dong said.
In the past, most people left the Pearl River Delta region by car for family reunions, creating congestion on the highways heading north and east.
"Now we have seen both directions on the expressways almost full of vehicles," Dong said.
The Spring Festival travel rush, said to be the world's largest annual human migration, began last Monday. Nearly 3 billion trips are expected to be made in the 40 days from Jan 21 to March 1.