Over the past 15 years, more and more Chinese companies came to Africa that promoted the vigorous development of Sino-Africa cooperation. As one of the earliest companies to start international business in Africa, POWERCHINA has invested in many large-scale infrastructure projects and made positive contributions to Africa's economic development and the local people's livelihood. It is firmly believed that only by actively integrating into the diversified world cultural system and local social ecology, can inject lasting vitality into international business and live in harmony with other countries.
The Karuma Hydropower Station, located on the side of Murchison Falls National Park in Uganda, is the largest hydropower station under construction in the area. It will make full use of the upper Nile water resources and promote Uganda's economic development strongly. However, how to "relocate" the wildebeest, antelope and other wild animals living around the project site has become a top priority before construction. To this end, POWERCHINA organized experts to make eight assessments towards the local biological environment and construction methods, and finally decided to bury the generator set, large transformer and gas insulated substation control equipment into the ground, to protect the original ground vegetation to the utmost during the construction.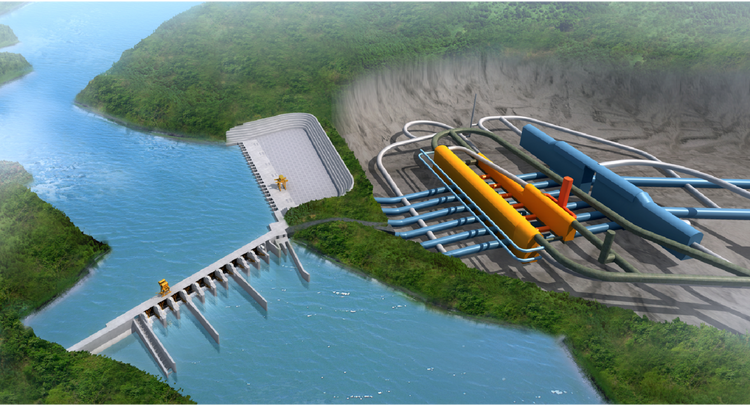 Planning map of Karuma Hydropower Station
Jiang Xiaodong, representative of POWERCHINA in Uganda, said that compared with other power projects, the Kaluma Hydropower Station had low operating costs, which would be easy for power peak adjustment and improve water resource utilization and comprehensive social and economic benefits. During the construction, POWERCHINA designed the underground operation space skillfully to coexist peacefully with the "indigenous" wild animal, which also brought a new green landscape for Uganda's tourism.
The Hwange coal-fired power station is Zimbabwe's largest ever coal-fired project. In the early stage, POWERCHINA also conducted systematic research, but this time it was about "people". Zimbabwe has a diverse folk culture, with more than 130 other religious denominations in addition to Christianity. In order to avoid unnecessary conflicts caused by different cultures, all Chinese employees in this project should be trained to respect local culture and customs. On the other hand, POWERCHINA actively propagates Chinese management concepts to Zimbabwe-based employees.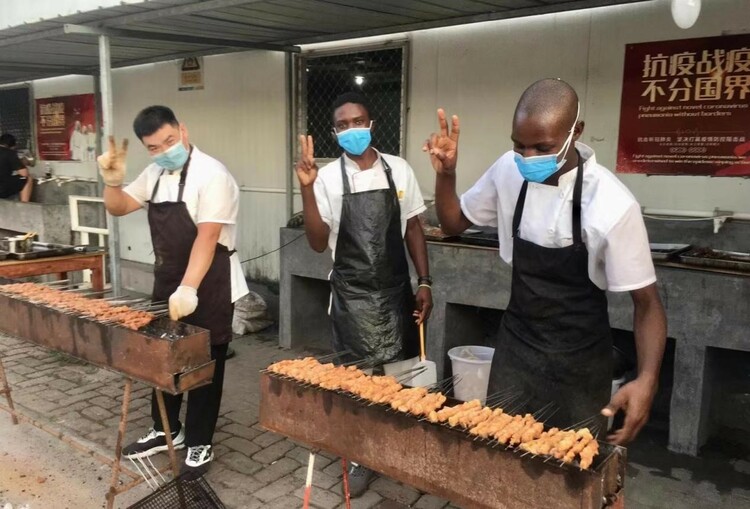 When getting familiar with each other, the food culture became common language for two countries' employees. Head chef, Mizeck Khulu, has become more creative in his cooking. Chef Linnet Moyo felt the extensive and profound Chinese culture by learning to cook Chinese food. "I've gotten really good at making rice and baozi!" boasted by the baker, Matthew Zulu.
Due to differences in culture, standards and expertise, the construction of Madagascar's largest hydropower station, Anderkalecka, has encountered many challenges. Since the project established in 2018, POWERCHINA has cut through all the obstacles to find a breakthrough for smooth cooperation and finally successfully implemented the Anderkalecka project.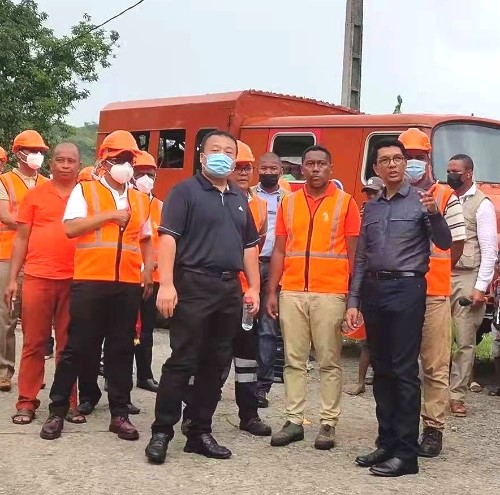 Madagascar's President Rajoelina led Energy and Fuel Minister Andry RAMAROSON and other officials to visit the Anderkalecka plant in early 2022
In early 2022, Madagascar President Rajoelina paid a visit to the Anderkalecka Power Station and expressed his gratitude to POWERCHINA for its participation in the fire rescue of No.1 transformer unit and its support for the underground plant construction. He stressed that the plant was of great significance to Madagascar. The installation of Unit 4 will be completed by the end of 2022, and will provide 50 percent of the capital's electricity needs when it is put into production.
In 2021, despite the negative impact of COVID-19, bilateral trade between China and Africa still hit a new high. From consumer goods to means of production, capital, finance and infrastructure, China is the largest participator in East Africa, and has remained Africa's largest trading partner for 12 consecutive years. As a global leader in the field of clean and low-carbon energy, water resources and environment construction as well as a backbone force for global infrastructure connectivity, POWERCHINA, with its professional technology and sense of responsibility, strives to advance the green industrial revolution, promotes the Belt and Road initiative to benefit more African countries, and injects "China energy" into the high-quality development of the world economy in the post-COVID-19 era.