On October 13, seniors at Heping Yard of Shenyang Jintaiyang Nursing Home happily welcomed a special group of visitors, five international students studying at Northeastern University. The event of "Celebrating Chongyang Festival With International Friends" was directed by the Information Office of Liaoning Provincial People's Government, and organized by CRI Online Liaoning. At the event, international friends and Chinese seniors together made Chongyang cakes and pouches, practiced Folk Paper Folding, having great fun at Chongyang Festival.
Since the five international friends knew little about China's Chongyang Festival, Qi Wei, a history professor of Liaoning University, gave them an online class at the beginning, telling them about the origin of the festival and the culture behind it.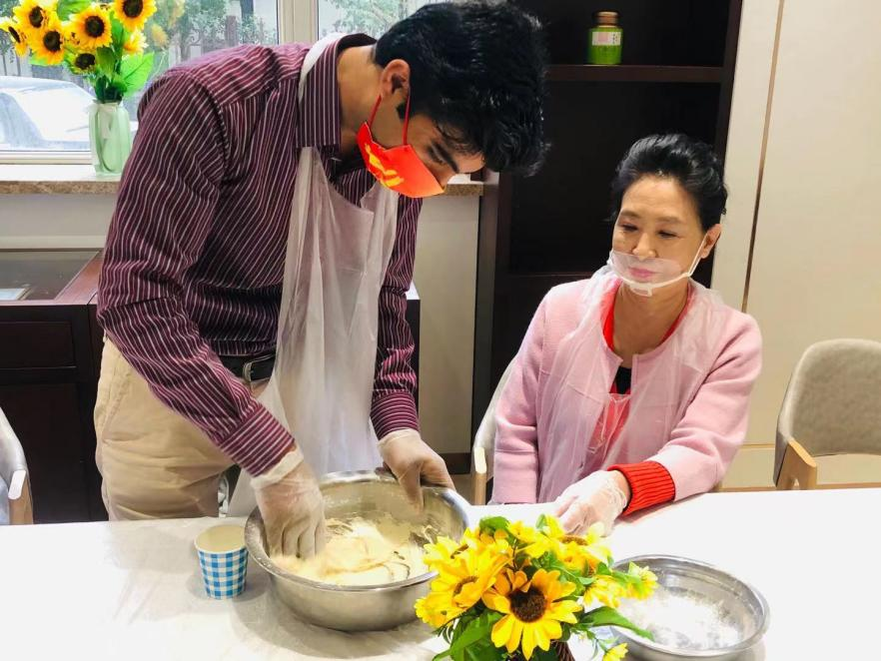 Lukman from Pakistan (left) is making Chongyang cakes together with Ms. Li from the nursing home. [Photo by Zhang Suowen]
Under the guidance of Wang Fang, a Senior Pastry Instructor of Shenyang Qixin Culinary Art School, international friends and the elderly started to make Chongyang cakes together. "This is the first time for me to taste Chongyang cakes. The experience is quite special since I have the chance to make the cakes with the elderly. I feel like going back to my hometown and childhood", said Tarek from Yemen.
After the hot Chongyang cakes were served, the five international friends held the cakes and sent their best wishes to the oldest participant at the event, a 90-year-old lady.
Then the participants began to make Chongyang pouches with colored paper and red strings under the guidance of Li Xue, an inheritor of Li's Folk Paper Folding, one of Shenyang Municipal Intangible Cultural Heritages.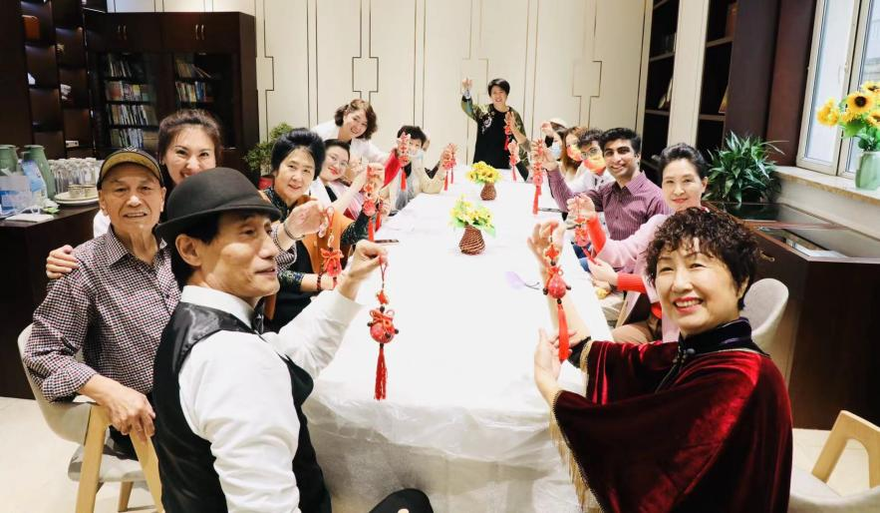 International friends and seniors show self-made Chongyang pouches. [Photo by Zhang Suowen]
The hospitable seniors showed international friends their talent and skills by giving spontaneous performances which reflected their daily life. The international friends could not help exclaiming: "They are marvelous! The seniors really live a happy life here!"
"There is no festival for the elderly in my hometown. It is the first time for me to celebrate the great festival which provides a good chance to show our respect for seniors", noted Spring from Turkmenistan.