For old buildings, he is as familiar as a native. For old daowai district, he goes there more than many people in Harbin. In his camera, Harbin always has unexpected beauty.
His name is Ben Watson, from the United States, and he is now a teacher of Northeast Forestry University.
If the camera can speak, Ben Watson's camera must be the ablest to tell the story of "ice city". When he first came to Harbin in 2002, the people who like photography originally planned to take some photos to share with my family and friends in the United States. Unexpectedly, he took these photos for more than 20 years. In his opinion, the old buildings scattered in all corners of the city are the most precious memory left by history.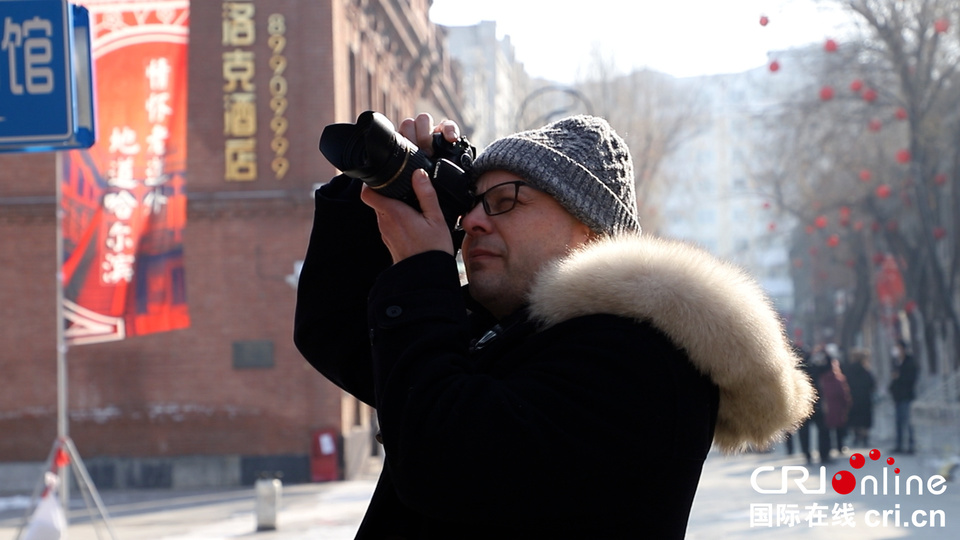 Ben Watson takes photos in Chinese Baroque [photo by Lixinyang]
In Ben Watson's eyes, Harbin has become one of the international metropolises. Harbin people can go abroad to understand the world, and foreigners can also come to Harbin to learn about China. People from all over the world meet here and become friends. Ben Watson, who witnessed all this with his own eyes, is also full of confidence in the future.
"I like the history of Harbin very much, I can't leave this city. I don't want to leave, this is my home. I am particularly proud to see the changes in the past 20 years. Because this is my city, I am from Harbin. I also hope that more and more people will know Harbin, fall in love with Harbin, and come to Harbin," Ben Watson said.