Nathan is an international student from the UK. In 2017, with his love for Chinese culture and enthusiasm for wildlife conservation, he came to Northeast Forestry University to pursue a master's degree in wildlife conservation and utilization. "I have loved animals since childhood, my undergraduate course is also about animal protection, China has more biodiversity, it is very helpful for my work and research," Nathan said.
In Nathan's opinion, life on the earth cannot live independently, and the health of the ecosystem is very important. To protect wild animals is to maintain ecological balance is also protecting human beings.
In order to better promote the protection of wild populations and habitats of cats, Nathan is not afraid of bad weather and harsh environment, and has repeatedly visited Hunchun Northeast Tiger National Nature Reserve, Northeast Tiger and Leopard National Park, and other places to carry out research.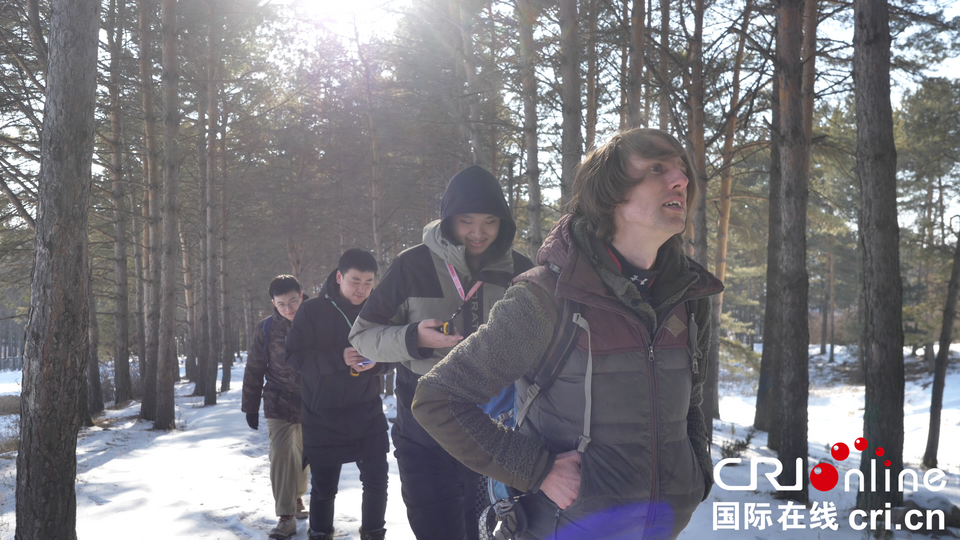 Nathan with his team [Photo by Yu Mingyang]
Recently, it was the day when Nathan set out to search for a tiger. Although it is early spring now, the temperature in the northeast forest region seems to remain in the cold winter. The international student from the UK has already adapted to the local cold weather, wrapped in a thick down jacket, and set out with the team towards the dense forest to search for the endangered wild animal, the Northeast Tiger.
After arriving in Heilongjiang, Nathan not only gained a direction in his study and research, but more importantly, it gave him a sense of belonging like home. Nathan said, "I am very comfortable in China, if I encounter some problems, teachers, classmates and friends will help me and help me overcome these problems. Heilongjiang is very beautiful, I like here, I like the snow here. I am willing to contribute to the protection of wildlife in China."