Australian Professor Dufu Wen: Beijing Public Cultural Service Is Extending to Community
|
ChinaNews
|
Published:2018-12-24 14:46:57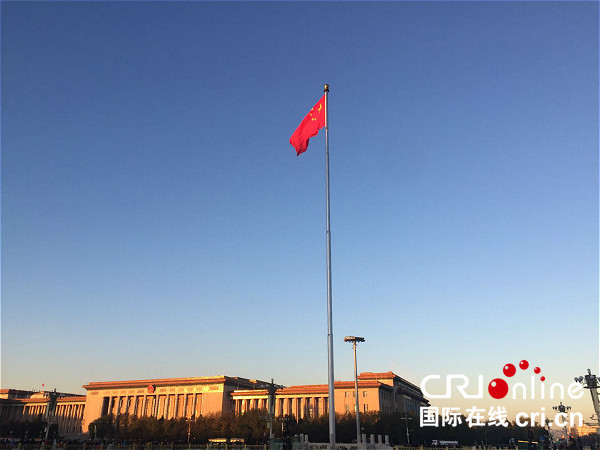 Caption: Flag-raising ceremony at Tian'anmen Square [Photo by Ge Ningyuan]
Stars in the early dawn promised brilliant blue skies in Beijing today. Tiananmen was bustling in November's chill breeze. The crowds assembled and as if on cue, the first rays of the sun illuminated the flag raising ceremony conducted by the Peoples Liberation Army's (PLA) crack ceremonial troop.
By 8 am the sun was glinting from the walls and roofs of the Forbidden City walls, the 1949 Liberation monument, National Museum of China, and other surrounding buildings. The vast public square was thronging with families and day-trippers, the Chinese Pistol Shooting Olympic team and buses were off-loading hundreds if not thousands of foreign visitors.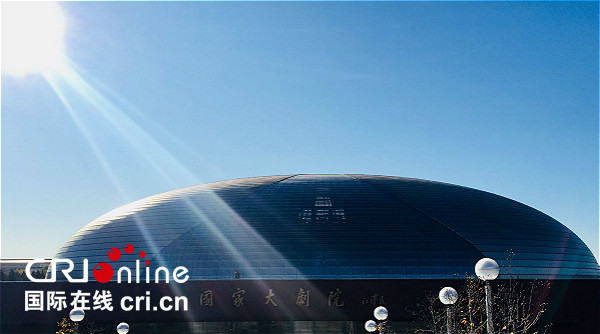 Caption: National Theatre for the Performing Arts [Photo by Dufu Wen]
After a typical Beijing breakfast it was time to take in the fabulous and ethereal National Performing Arts Centre (NCPA). A gargantuan silver and glass egg that is half interred creates a futuristic alien like structure.The countries pre-eminent performing arts centre is home to Beijing's ballet, opera (classic and contemporary), national theatre and acoustically superb concert hall.
Attending my visit was the Director of the Serbian Philharmonic and the centre's communications director. Over 900 performances per year at a cost almost all families can afford makes the centre unique amongst it's peers. We witnessed a pipe organ performance, toured the opera theatre and listened to a string quartet in the lobby. The interior design of the vast naturally lit interior is exquisite and echoes traditional motifs elegantly integrated into its 21st century modernism.
A key feature of the NCPA are its community engagement programs. Touring troupes, travelling shows, training and education programs and exhibitions extend across the city, the country and across the globe. This theme of cultural and creative industries connecting at the community level is a major component of the master development plan for Beijing.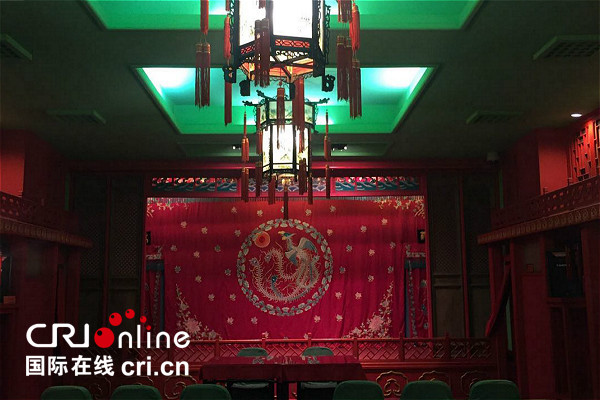 Caption: Mini theatre Chaoyang Cultural Museum [Photo by Dufu Wen]
At the Chaoyang Cultural Museum, 'community' is the guiding principle. It has theatre spaces, studio's, theatre and cinema exhibits that connect at every level with its neighbourhoods. Community choir, theatre classes, performance and three or four different mini theatres for staging productions and classes.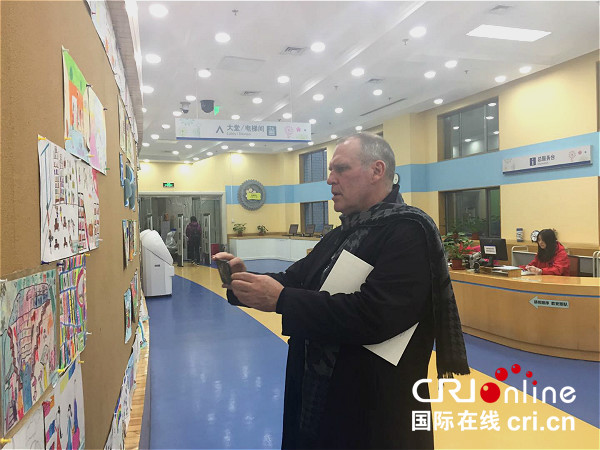 Caption: Australian professor Dufu Wen is taking photos of kids' paintings in the Capital Library [Photo by Ge Ningyuan]
The Capital Library moved to its new premises in 2001. Within the context of social and community engagement the library runs a large number of programs for the young, disabled and elderly. The children's reading area is bast and interactive aids and play areas promote learning in an advanced and totally relaxed setting. A pregnant lady was reading books to her unborn child and an elderly ex-editor and member of the academy of sciences was preparing notes to write another children's book. Naturally the library has an extensive research section devoted to Beijing, its history and millions of family registries, contracts, transactions, original drafts of books and poems and much much more.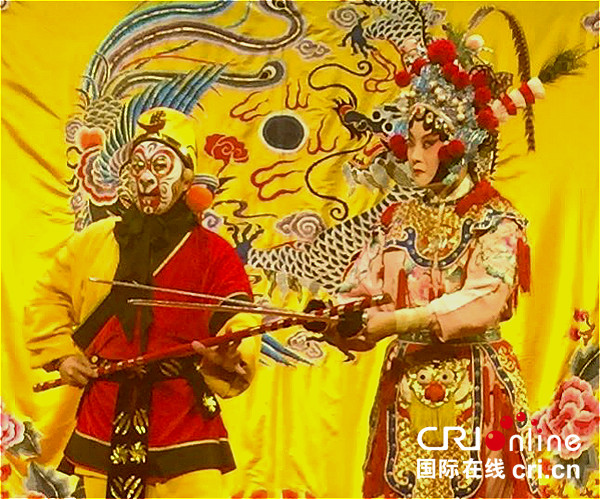 Caption: Peking Opera performance in Huguang Guild Hall [Photo by Dufu Wen]
Peking Opera is a highly stylised form of theatre incorporating song, mime, acrobatics, slapstick and melodrama. Fabulous costumes and make-up in a colour range from turquoise to hot pink, gem-laden headpieces and magnificent robes combine in tales of injustice and unrequited love. A must see for serious fans of theatre and just for fun. One of the most famous playhouse or 'Jingju' opera theatre is the Huguang Guild Hall. A multi-tiered and gaily decorated Qing fantasy the theatre is an intimate experience best enjoyed at a table laden with snacks and beverages for the 1-2 hour performance.