Yanqing: Construction officially restarts on the Winter Olympics Forest Park
|
ChinaNews
|
Published:2020-03-13 17:32:44
On March 12th when the 42nd Tree-Planting Day was coming near, the construction officially restarted on the Winter Olympics Forest Park located in Zhangshanying County, Yanqing District, Beijing. Under the organization of Zhangshanying County, all officials arrived at the park still under construction and held group tree-planting activities together with the construction workers.
Before the tree-planting started, the officials and workers had their temperature taken one by one, put on the gloves and masks and planted the saplings when all reasonable precautions were taken. After the planting, they hanged the identity cards on the saplings and wrote down the names of planters as well as best wishes for the Winter Olympics, enabling those young trees to witness the planning process of the Winter Olympics.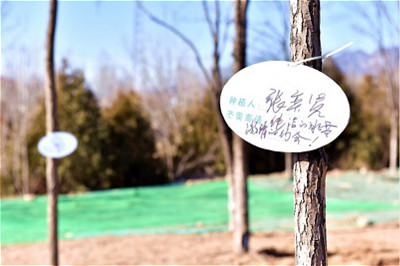 The Winter Olympics Forest Park under construction is 10km away from Yanqing Zone of the 2022 Winter Olympics. It is located to the west of the local government of Zhangshanying County. The construction started in April, 2019 and the park is divided into two parts. The first part covers an area of 480 mu (a unit of area=0.0667 hectares), lying along Foyukou River. It will include 5 exhibition areas: Portal Garden, Olympic Garden, Olympic Sports Park, Ex-Situ Botanic Garden, and Olympic Home. Within the exhibition areas, there will be lush vegetation. Moreover, the highlights of each Winter Olympics and the culture unique to the Winter Olympics will be showcased through bulletin boards, mascots, champions' footprints, historical carved walls, the thematic symbols of the five interlocked rings, and humanoid vertical plates of famous athletes . It is said that the first part of the Winter Olympics Forest Park will be open to the public in October, 2020.