On July 6, eleven guests paid a visit to Xi'an Museum and rang the morning bell of the Small Wild Goose Pagoda, starting a wonderful journey of a whole day. They included ten foreign ambassadors' spouses from Gabon, Niger, Mali, Sierra Leone, Mauritius, Indonesia, Samoa, Pakistan, Madagascar and Gambia, as well as the Counselor for Culture, Science & Technology and Education from the Embassy of Egypt in China.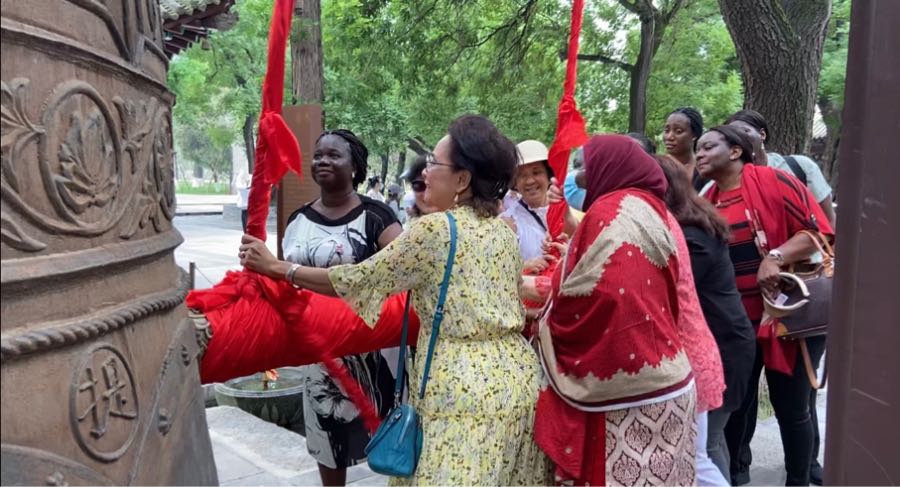 Guests ring together the morning bell of the Small Wild Goose Pagoda. [Photo by Wu Yuting]
Xi'an Museum is composed of museums, historical sites and urban gardens. While taking a walk here, the guests learned about stories of what happened thousands of years ago and could not stop taking snapshots.
Moin Farrah, the spouse of the Pakistani Ambassador to China noted, "In the past, I thought the Small Wild Goose Pagoda was just a museum. But this visit let me know that it's more like a garden! I have never expected that. How interesting!"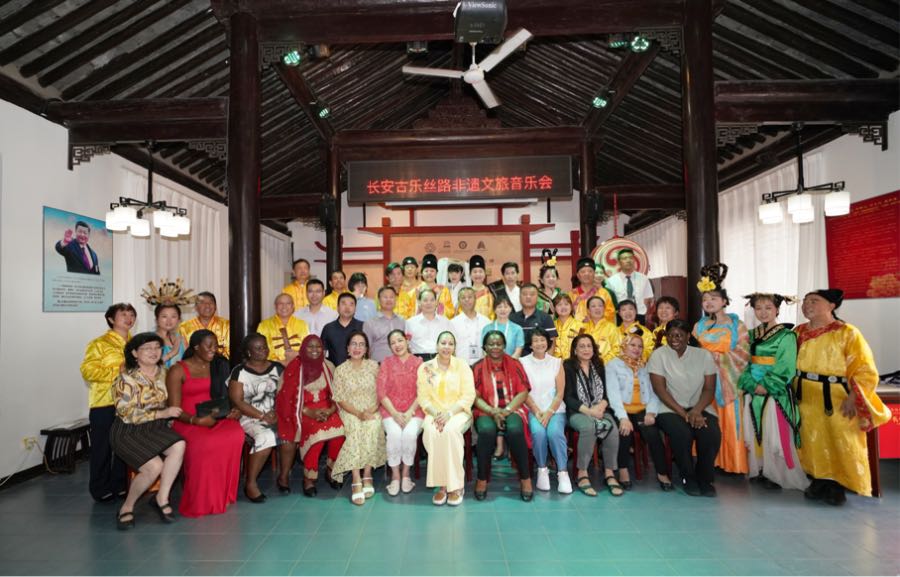 Foreign ambassadors' spouses take photos with folk artists of intangible cultural heritage. [Photo by Zhang Hongyu]
In Xi'an Museum, the foreign ambassadors' spouses watched a special concert of cultural tourism themed on Chang'an's ancient music and intangible cultural heritage along the Silk Road. 13 folk artists of intangible cultural heritage performed the famous court music of the Han and Tang Dynasties. The guests were immersed in the beautiful melodies and even could not help singing Jasmine Flower together with the artists.
When leaving the museum, Radilofe ep.Jean Louis Marcelle Helene, the spouse of the Madagascan Ambassador to China, said, "Right here I am impressed by the ancient architecture and cultural atmosphere of Chang'an. I love the place where we are now and I love Xi'an. If possible, I will pay another visit to Beilin District and Xi'an with my family members."